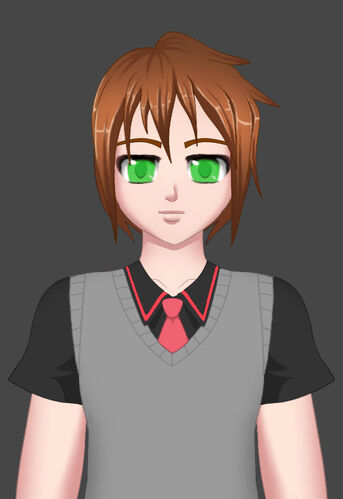 Likes: Computers, Anime, inventing, talking to Maiko.
Hates: Being distracted from things her likes doing.

He is a member of the Computer and Anime Club. He is always inventing or testing new technology. He has already been offered a job position at Gem. Co. and frequently helps test out their new technology and perhaps improve on their ideas. Since he finds Maiko so appealing, he frequently goes to Maiko first to test many things.
He has a sister named Namia that ran away from home before he was old enough to remember her. He doesn't know why. He has only seen her through pictures, and doesn't spend any time thinking about it.
Later on in the story, he is conveniently confronted by a mysterious hooded mage and gains special parts he needs to make Maiko into everything she always wanted to be.. in exchange for having a curse inflicted upon him which he originally thought was a gift of power.