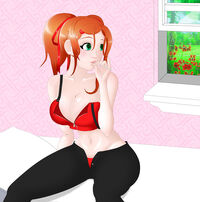 Umichan is a flash Game Created by author
Vortex00
. He plan on telling the world of
JLCK
by a way of a First person view. Playing two female students
Maiko
and
Riley
. Umichan is know a very popular flash on the internet. The fact of the Flash Hentai put into it. Umichan became it's own type of unofficial main title. Many users still believe that the name of his world is Umichan. Not knowing that it's really JLCK Universe. Making
Maiko Umiya
a very popular character.
Early Work
Edit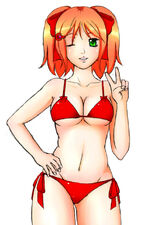 His early work he plan on having three selectable female characters Umi, Maiko and Riley as he was developing the characters. He decided to do a demo called
Umichan: Maiko
. He later release a second version explaining a little about Maiko's life. He later tested another more serious flash called
Umichan: Maiko Snowball Holiday
As he was making his next Umichan the files size were getting bigger. Plus he wanted to give his characters last names. As a way of a Japanese saying first the last names than first names. He decided to erase Umi and just have two characters Maiko and Riley.
Umichan Projects
Edit
He decided he needed to split it into parts for the Umichan. Which are Flash Games and Umichan Animated Series.
Umichan: Maiko His first demo of Umichan game.
Umichan: Maiko V.2 His second demo which have a little intro to Maiko's world.
Umichan: Maiko Snowball Holiday A Game flash about Maiko in a Snow fight.
Umichan: Dark Winter Vortex00 first Animated series.
Umichan: Riley A still in production of Riley's view of the world. His first for Riley is a Animated series erotica of her. A more serious game in works in the future.
Umichan: Maiko Classroom Cheaters A working title of his finish product of Maiko.
Umichan Characters
Edit